"If You're Faced With An Emergency With Your Pet




You May Only Have Moments -

Learn Pet First Aid And Help Your Pet
When They Need It The Most!"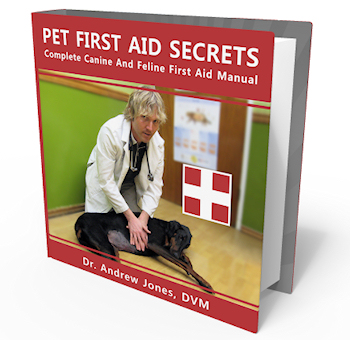 Pet First Aid Secrets:
Complete Canine And Feline First Aid Manual





Dr. Andrew Jones, with Lewis and Mischief


Dr. Andrew Jones, DVM
Friday, 9:30AM Dear Pet Parent, If you love your pet, and want to save their life if there's ever an emergency... If you don't have a clue what to do if your pet swallows a household poison (which can include seemingly harmless things)... ...then this may be the most important message you ever read about pets.

Can You Treat Your Pet When
They Need Your Help The Most?

I'm Dr. Andrew Jones, and I have practiced Veterinary Medicine for over a decade. Over the past 15 years I have treated thousands of pets for a variety of problems, and currently own the Nelson Animal Hospital in Nelson BC, Canada. Most pet owners have no idea how to perform CPR, or even begin to give basic medical care to their pet. But you should know these things, because in some emergencies, you can't always get to the Vet in time. We live in a world where EVERY DAY even the most loving and responsible pet owners face the anxiety of caring for pets that are bitten by other animals, swallow dangerous objects, eat something poisonous, and are hit by cars... and the list goes on. Ask yourself these questions:
do you know what to do if your pet is choking?
if your pet is hit by a car... what steps would you take?
what would you do if your pet stops breathing?
your pet is bleeding... how do you stop it?
if your pet has hypothermia - what must you do right now?
what should you do if your pet has broken their leg?
your pet is suffering from shock - what must you do to ensure their safety on the way to the emergency vet?
if your pet has been bitten by a poisonous snake or spider - what should you do?
Do you know the answers to these questions? Knowing what to do in any emergency situation can mean the difference between life and death. The point of this is not to scare you, but to make you aware. Accidents, seizures and emergency medical problems can and do happen, every day. As a responsible pet owner, you should know what to do in the event that your pet is in need of emergency care. The purpose of Pet First Aid is the same as with us humans... it's to ensure, as much as we can, that our patient (our pet!) is taken care of as best as possible, so that when we arrive at the emergency vet, our pet has the highest possible chance of survival. This is where my book can help you...




Pet First Aid Secrets
Complete Canine And Feline
First Aid Manual




I've written Pet First Aid Secrets as a guide to help you become a prepared pet owner. I've included the most common emergencies that I have seen arrive at my clinic and throughout my career as a Veterinarian.




290 Pages of detailed content covering
EVERY COMMON DOG AND CAT EMERGENCY




This digital book will allow you to treat injuries, ease pain, and even Save Your Pet's Life... ...even if you have never treated anything, and don't have the foggiest idea about animal medicine. Most pet owners are unprepared for dog and cat emergencies - I want you to be prepared, because emergencies happen everyday. I have spent years exploring ways for pet owners to administer first aid. Pet First Aid Secrets allows you - dog and cat owners - to administer first aid, to care for your pet and treat emergencies at home. Pet First Aid Secrets will provide all the information you need - without medical jargon, and without complicated procedures. What you do need to use Pet First Aid Secrets: The willingness to comfort and care for your sick or injured pet so you can alleviate pain and begin treatment BEFORE you reach the veterinarian. Pet First Aid Secrets system breaks down the treatment options in a step by step process for common pet emergencies such as...
Car Accidents - very common: here is what you NEED to watch for, PLUS reacting to the MOST COMMON injuries.
Fractures in dogs and cats happen often - here is the most effective splint that can prevent further damage... AND effective Pain control.
The signs to watch for if your pet has NECK PAIN. How to decide if it is serious, PLUS how to respond at home.
CPR. What to do if your pet STOPS breathing, if your Pet is Choking or her Heart STOPS.
Abdominal Wounds. Emergency At Home Care, What to do if the organs are showing and The "secret" household item that could save your pet.
Treating your Pet for Shock - exactly what to do to ensure that your pet survives while on the way to the emergency veterinarian.
Chest Injuries in Dogs and Cats - the Quick Actions you must take IMMEDIATELY.
What to do if your pet is Poisoned - four specific common poisons and how you MUST treat them at Home.
The two extremes of temperature, Heatstroke (Hyperthermia) and extreme cold, Hypothermia. How you should immediately respond - and what you SHOULDN'T do.
Bleeding in Your Pet - How to End it FAST it. Pressure Points to slow the flow, PLUS Stopping Ear, Head and Nose Bleeding.
Snake and Spider Bites - What you MUST do first to Stop the toxins... this simple step can save your pet.
A vomiting dog or cat needs this to happen FIRST. Know exactly what you must give, PLUS natural at home remedies.
I have another Pet Health Manual, Pet First Aid Secrets (at www.veterinarysecretsrevealed.com) that has been available online for the past 3 years. Thousands of empowered pet owners have purchased Pet First Aid Secrets, and here is what a few have had to say:

Dear Dr. Jones,

Thank you for your Pet First Aid Secrets! I just wanted to let you know that I have bought your book & am very happy with it! Shortly after buying it, a friend of mine had a German Shepherd that was very sick, but he didn't know what the problem was. We email each other quite often, so I asked him what symptoms the dog was having.

After his reply, I checked your book & was able to tell him that it was either one of two different problems. Both symptoms required him to take the dog in to emergency, so I was able to help save his dog! He has now bought your book as well, just because of this!

Thank you so much!"


Priscilla

"Hello Dr. Jones,

I just purchased your eBook as a result of trying one of your remedies in your newsletter. I am using dandelion tea as diruetic for my pet with congestive heart failure and it is very helpful. I am going to use some of the other remedies starting now because I have an outbreak of upper respiratory problems. Colds. Runny eyes and congestion. Since some of them I have used previously on myself (I prefer alternative medicines for me too) and found them helpful I have no reservations in following your suggestions laid out in your book. I will continue to give you feedback as I proceed. And I will read the book from end to end. Your book will be the most valuable aid in caring for my feline family that I could ever have.

Thank you so much for writing such a comprehesive medical guide. I can see that you have put a lot of care and thought into not only the content, but the layout as well. It is very well thought out and user friendly. I will be recommending this to everyone I can.

Thank you for providing this tool to people like me who don't want to always rely on tradional pharmaceuticals with there inherent side effects. "


Carole Burletoff, Economy, NS

"Thank you for your Vetinary Secrets Newsletter. I find it fascinating and informative. It has confirmed some things I have always suspected! I then brought your book which I, happily, have not had to use yet but feel confident I will find useful. I particularly like the info on how to examine my cats at home.

Keep up the good work. I think you and your book are GREAT!!!!!!

Best wishes, "


Ann Partridge, West Bromwich, England

"I have great admiration for the fact that you have shown the courage to blow away so much of the mystique surrounding your particular Profession. Here in the U.K. veterinary costs are sky-high (ever increasing), and having a family of numbers of animals the information you share is much appreciated and sincerely valued. Having all this 'INSIDER' information and guidance available from one source is invaluable.

Thank you. Excellent value for money. "


Dawn, United Kingdom

"Dr. Jones,

Your book, Pet First Aid Secrets is a quick, easy-to-use reference for pet owners who are conversant with natural health terms and practices. Your book should be on every pet owners bookshelf. With the emergency treatments and CPR included are a must for all pet owners.

Thank you for your fast response to my inquiry on Hyperthyroid Disease."


Kathleen

"Dr. Jones,

Your book surely is like some kind of a wonder. In good old Germany I was surching through the net to find something about thyroid problems in dogs, having taken a one year old golden retriever from a women wanting to get rid of her. She came with a high dosis of L-thyroxin and the vet bills started to expand. I came across your book, found something similar to the raw gland concentrates here in Berlin and thats how it started. Than I have treated the ears with calendula and garlic and, and, and.... Wonderful."


Christine Schulze-Leistikow, Berlin, Germany

"Your eBook Pet First Aid Secrets & your Daily Newsletter have been very informative. We have 4 dogs & 4 cats that need attending to. So we seem to have one problem or another to keep in check. We have been doing our own Vet Work, being raised on a farm and using home remedies for years. I have purchased your eBook to improve my knowledge on pet care.

The information that you have provided so far is outstanding. A healthy pet is a happy pet. What more could a pet owner want. "


Richard, Nanaimo

"Hi, Dr. Andrew Jones,

All the information you give to us through your daily newsletter, Veterinary Secrets and your e-book, Pet First Aid Secrets is very importance and useful. I live in Puerto Rico and most veterinary doctors here close their clinic at 6:00 pm. After 6:00 pm there no one to ask or no place to go. But we always have your information ready to be use (24/7).

Thank You,"


Carlos Perez, Puerto Rico

Pet First Aid Secrets: Complete Canine And Feline First Aid Manual is a digital book (e-Book) that can be delivered to you in a matter of seconds in a universally readable PDF format. That's right - the moment you submit your order on our secure server (your payment details are absolutely safe) you'll have instant access to the information that can prepare you for an emergency with your pet.

Gain peace of mind...


Be Prepared For An Emergency

I'm confident that you and your pet will benefit from the information in this book. Once you go through the book and practice the techniques, you will gain peace of mind knowing that should your pet ever need your help in an emergency, you will be prepared. I want to be sure you have the time to really go through the book and learn the techniques, and feel confident with what you have learned. So, I'm giving you a

100% COMPLETE 8 WEEK
Money-Back Guarantee



If you and your pet are not 100% thrilled with the amazing information in this book... if you find that the illustrations and information are not an extraordinary resource that will help you care for your pet if and when the time comes... ...then please contact me within 8 Weeks and

I'll quickly provide a full refund

- with no objections and no hard feelings.

All I ask is that please, before you return it - for the sake of your pet, at least read a few of the sections and practice a few of the techniques. You have nothing to lose, and it could mean the difference between life and death for your pet. Your best friend will thank you... so claim your e-book now!

Get Instant Access - Even If It's 3 A.M.


When you click the button to download your copy,

you get instant access

to

all

the information.

That means you can begin learning the techniques

within the next 2 minutes

, no matter where in the world you are or what time it is (even if it's 3 a.m. on a Sunday!).

Remember, this is a digital book - an e-book - in PDF format, and so are the bonuses. They tell me that PDF stands for "Portable Document Format" which means it can be opened and read on any computer. I'm a Veterinarian, not a techno-guru but I do know that e-books are are simple to use.

Plus the PDF format makes it

easy to search and find the information you're looking for.

Or, you can print it out and have it ready to refer to on a moments notice.

So go ahead! Download Pet First Aid Secrets Right Now...

Pet First Aid Secrets
"PRIORITY" Order Form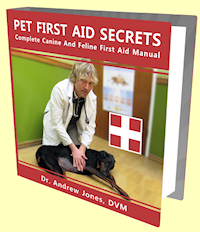 Yes, Dr. Jones!
I Can't Wait To Get My Hands On Your Incredible Offer!
Dr. Jones, I want be ready to care for my pet when illness or injury strikes. I am ready to immediately get going and start learning the techniques now.
| | |
| --- | --- |
| | I understand that my order will be processed on a totally secure server. |
| | I understand that I will immediately receive "Pet First Aid Secrets" right after I place my order. |
| | I understand that I have 8 Weeks to test each and every bit of information in "Pet First Aid Secrets" and if I and my pet are not 100% thrilled with the amazing information within the 8 weeks, I'll get a full refund. |
Pet First Aid Secrets:
Complete Canine And Feline
First Aid Manual
$47
Instant Download
Click to order securely by credit card

Please give me my download RIGHT NOW!
I can't wait to get going and start learning so I
can help my pet with "Pet First Aid Secrets".




You are just

30 seconds away

from making one of the

best investments you may ever make for your pet...

You know it's the right thing to do for your pet. And you have 8 Weeks to see if this information works for you (you can get your money back at any time within those 8 Weeks!). Obviously, there's no risk involved - only security and peace of mind. Please prepare you and your family to care for your pet in any situation, for your pet's sake. To your pet's good health,




Andrew Jones, DVM P.S. - I know that if you have read this far on the page, then you really are devoted to your pets and you want to give them the best possible care. The Pet First Aid Secrets Manual will show you the techniques you need to know to be prepared for an emergency with your pet.
So why wait? Order now and you'll be prepared for whatever the future brings to you and your pet.




Click here to order now




P.P.S. - I have a no-questions-asked 8 Week Money Back Guarantee. I am a "real" person who also owns a veterinary clinic, and I back up my product 100% - You will receive a full refund if you are not thrilled with the information.




Click here to order now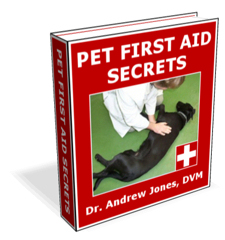 Contact Support: support@veterinarysecretsrevealed.com